Tile estimate
, Professional Tile Installation - Douglas County, Denver Tech Center, Highlands Ranch Colorado - All Rights Reserved - 1999 - 2015

Will we install tile in your neck of the woods?

We love to provide free onsite tile estimates and answer any tile questions you may have if your anywhere around North Denver (no farther than Westminster CO) to as far South as Colorado Springs. Brunetti Tile also services as far West as Evergreen (for larger jobs only) and East through out all of Aurora Colorado. We are located in Castle Rock and Highlands Ranch (Lone Tree area). We love to work in Douglas County but venture outside of it for tile jobs each week! =)

                  What all can Brunetti Tile do?

We have fun setting and installing any type of Tile in any pattern or style. Tile grouting is always provided and if you would like we will also seal the grout. Re-grouting may also be requested though only if the job is large enough. Tile floors, ceilings & walls, tile bathrooms and mortar beds, tile kitchens and custom countertops are all not a problem. Brunetti Tile has done many backsplashes as well. We work with any types of tile, even Glass Block. We supply free estimates and very detailed tack-off lists for our customers.

You can use any kind of tile you would like or fall in love with for your Colorado tile project. But just because a tile matches perfect or is really sharp looking doesn't mean its a good fit for where you want to use it. Let this page of BrunettiTile.com be a wealth of information for you. We will tell you about the different types of the most popular tiles used today; And what works well for what areas and why. For example porcelain and non-porcelain or ceramic tiles are the most common and the least expensive. But granite tile can stand up to more abuse and has a lesser chance of cracking or scratching. That is how the entire trend with granite counter-tops started after all. And travertine tile, one of our favorites, is used in bathrooms all the time but is actually the most porous of tiles. Many of the spots on a piece of travertine is actually grout that was filled in at the factory. Otherwise those holes, if left open, would leave huge gaps in the tile. Learn more here with Brunetti Tile or just don't worry about any of it and leave it to us!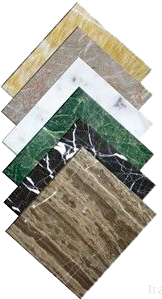 GRANITE                                                          MARBLE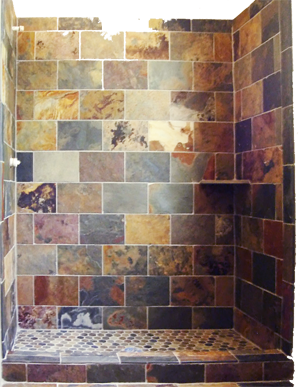 TRAVERTINE                                                                                           SLATE

PORCELAIN                                                                                                       GLASS

  (720) 556-2051

  Email for faster replies!

LED lights in TILE by

sales@BrunettiTile.com